Carbendazim 12% and Mancozeb 63% WP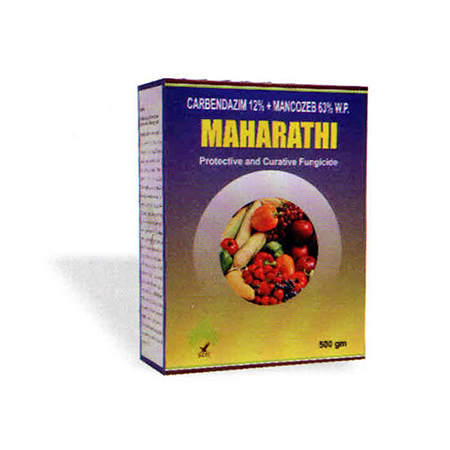 Carbendazim 12% and Mancozeb 63% WP
Price And Quantity
Kilograms/Kilograms

260.00 - 270.00 INR
Product Description
Carbendazim12% + Mancojeb 63% WP
Group : Fungicides
Brief Description : Maharathi ( Carbendazim12% + Mancojeb 63% WP ) is a safe & soluble powder of Carbendazim & Mancojeb and is used as Systemic and Contract Fungicide. to control many fungus
Detailed Description
Maharathi ( Carbendazim12% + Mancojeb 63% WP ) is a safe and soluble powder of Carbandazim and Mancojeb and used as fungicide to control many fungal diseases such as Scab, Anthracnose, Anthracnose, Downy mildew, Early and Late blight , Leaf spot diseases in a wide range of field crops, fruits, nuts, vegetables, ornamentals etc viz Ground nut, Paddy, Potatoes, Tomatoes, vines, cucurbits, Apples, Bananas, citrus etc. in accordance with the climatic conditions and local authorities.
Recommended Doses /Hectare 500 - 750 gm diluted with equal quantity of water or as being recommended.
Packaging Details : Maharathi (Carbendazim12% + Mancojeb 63% WP) is available in small pack of 10gms, 25gms, 50gms, 100gms to 50 kg bags and bulk packing as per customers requirement.
Delivery Time 30 days
Frequently Asked Question
1. What purpose do carbendazim and mancozeb serve?
Ans - The results of the overall investigation showed that foliar diseases like Alternaria leaf spot/blight in agricultural crops can be managed with the combination of carbendazim + mancozeb at 2.0 g/l.
2. What is the purpose of carbendazim?
Ans - Over the course of a growing season, carbendazim, a systemic benzimidazole fungicide, is applied regularly to control plant diseases, particularly soilborne illnesses. Studies were conducted in a lab setting to determine how frequently applying carbendazim affected the microbial community and its persistence in soil.
3. What carbendazim mancozeb adverse effects are there?
Ans - We discovered that carbendazim causes embryotoxicity, apoptosis, teratogenicity, infertility, hepatic dysfunction, endocrine-disrupting effects, disruption of haematological processes, anomalies of the mitotic spindle, and mutagenic and aneurigenic effects.
4. Carbendazim: Is it harmful?
Ans - According to studies, excessive doses of carbendazim damage the testicles of laboratory animals and cause infertility. Since the negative effects of pesticides were discovered, MRLs have been lowered.
Contact Us
Plot No. 67 & 9A, Pratham Ind. Estate, Village Dhamatwan, Taluka Daskroi, Ahmedabad, Gujarat, 382435, India
Phone :+918037401720